Australia: COVID-19 Second Stimulus Package by Tricor Services
Posted on the 23rd March 2020
Australia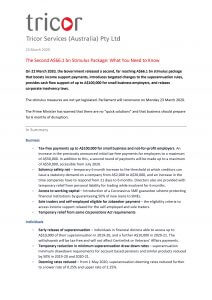 The Stimulus Package: Updates
The Australian Government announced a further A$66.1 bn second stage economic stimulus package on 22 March 2020 aimed at supporting individuals and businesses during these uncertain times.
This package is yet to be legislated and Parliament is expected to reconvene today (23 March 2020).
Below is an overview of what these new proposals involve and how they will assist businesses, employers and individuals and inject cash into the economy, including:
Tax- free payments up to A$100,000 for small businesses
Access to additional working capital
Sole traders and self-employed eligible to Jobseeker payments
Temporary relief from some Corporations Act requirements.
Early release of superannuation for individuals suffering financial distress
Temporary reduction in minimum superannuation pension payments
Additional supplemental cash payments related to the Corona virus.
You can download the guide below.
Should you have any questions please do not hesitate to contact our Australian member Tricor Australia.